Free shipping on all Orders
The Nordic Lash Magnetic Eyeliner & Lash Kit
Rated 4.9/5 by 1102 happy customers
The Nordic Lash Magnetic Eyeliner
Rated 4.9/5 by 1102 happy customers
Stunning lashes at home in under 2 minutes...

With no need for messy glue or harsh chemicals...

we've helped 1000's of happy customers ditch glue for ever...

no more damaged lashes, no more animal cruelty no more over priced salons...
(swipe to see more reviews)
Why Choose The Nordic Lash?
Apply in minutes, the liner dries super quick and they are waterproof

Stay on all day no matter the wind or weather, plus the corners never peel

Best value, you're getting 5 pairs of stunning lashes,all reusable up to 20+ times

5 different styles you get 5 different styles to make making sure the nordic ash has got your back no matter the occasion

Vegan & 100% cruelty free (we use special synthetic fibres to replicate the look of mink lashes)
Liner takes ages to dry, gets gloopy and isn't water proof or smudge proof

Only stay on for a few hours and corners start to peel and lift up after a while

Most other brands you only get one set of lashes (for the same price we give you 5)

Other brands don't offer mixed sets meaning you don't have lashes for every occasion

Mink fur is used by most lash brands, which helps support the awful mink fur industry
The Reviews speak For Themselves...
(swipe to see more reviews)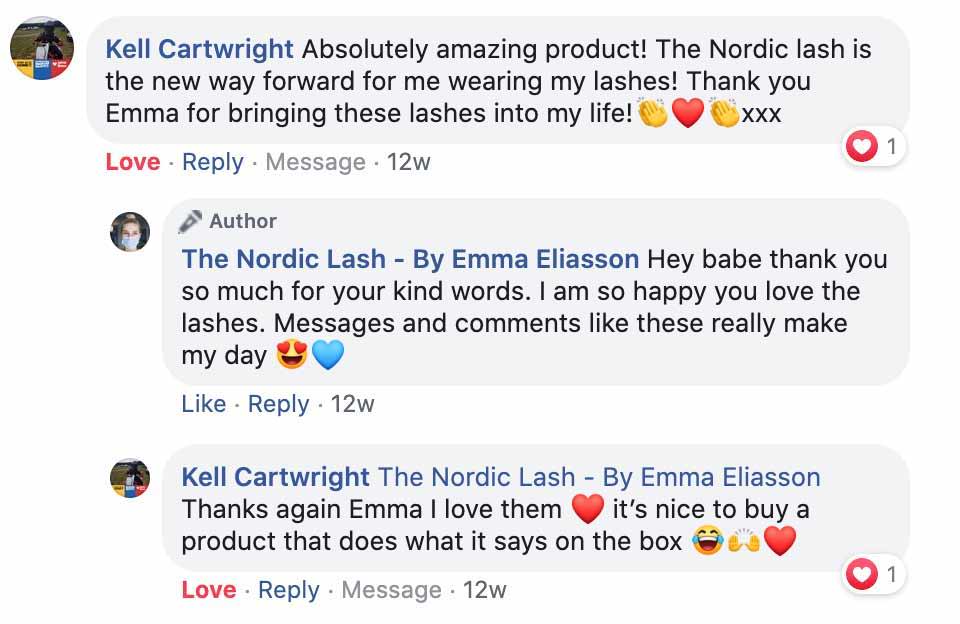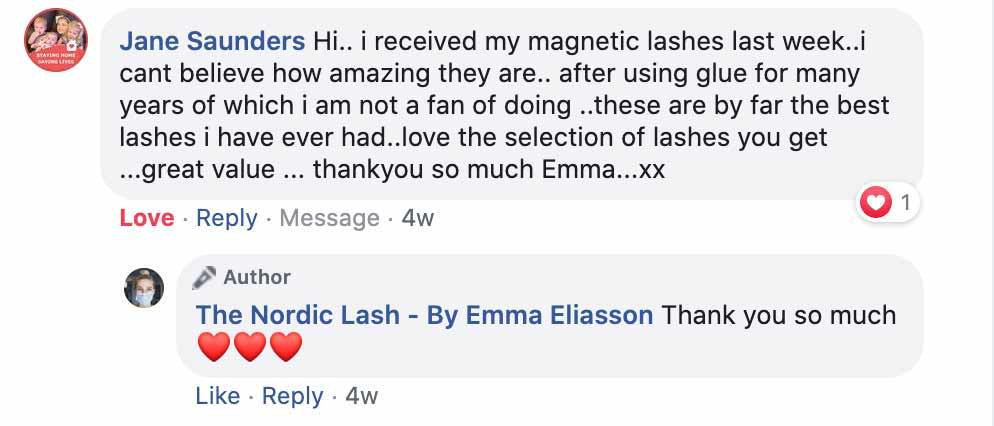 How to use? It's super simple...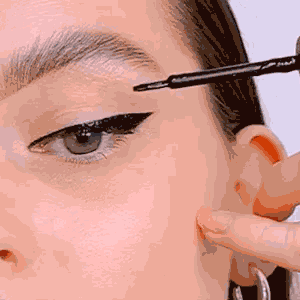 Shake eyeliner, then apply two layers and wait till 100% dry

Pro tip: If you like a winged look, create it using your regular liner, then just put our liner on top along the lash line (this will make your liner last twice las long)



Place your magnetic eyelash on top of the eyeliner starting with the corner nearest your nose first

DO NOT WORRY: if you place them wrong, jut peel them off (shown in next step) and try again... you can have as many goes as you like, unlike regular glued lashes
Gently pull of the lashes and remove any excess liner with waterproof make up remover

Finally: store the lashes back in the box on their magnetic strips ready to use again... easy peasy (or lätt som en plätt as we say in Sweden).
Check out what these professional make up artists had to say...
(swipe to see more reviews)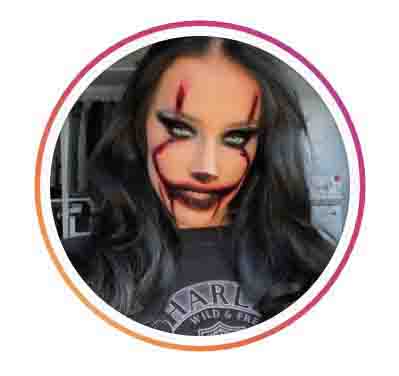 Georgina:
Make up artist from Sussex
"Ok so this is a game changer, I am shook, I have no idea why i've never tried these before, this is going to save soo much time...and you know how much I hate the feeling of glue on your eyelids"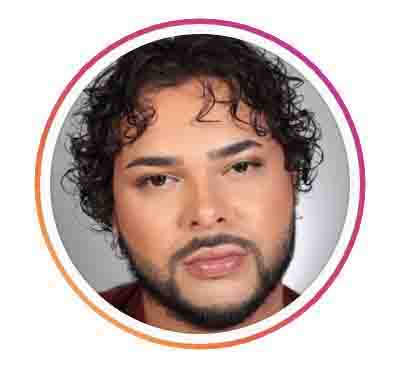 Anthony:
Make up arist from L.A.
"That just went on effortlessly...
they fit really nicely and follow the curvature of the liner...that was the easiest lash I've ever applied in my entire life...this is REVOLUTIONARY"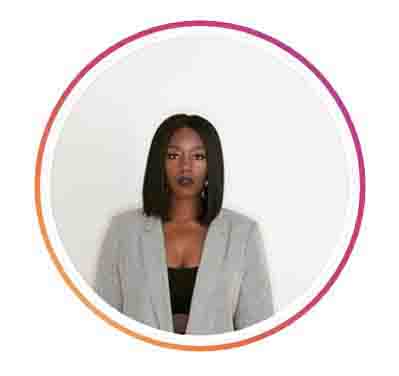 Tajarose
Make up artist from London
"I think it looks amazing... OMG that literally just clicked on... I LOVE IT... simple as that no fuss, no glue just snapped right on"
Ready for easy to apply, stunning lashes in minutes?
Pick a bundle below and join 1000s others in the magnetic revolution 👇

Rated 4.9/5 by 1102 happy customers
The Nordic Lash Magnetic Eyeliner & Lash Kit
No harsh chemicals, sensitive skin safe

No messy glue, they just pop right on...

100% cruelty free, no animals harmed

Reusable 20+ times... save $$$ and the environment

No-Risk 30 day money back guarantee
How to use? It's super simple....
The Nordic Lash Magnetic Eyeliner & Lash Kit
Rated 4.9/5 by 1102 happy customers
The Nordic Lash Magnetic Eyeliner
Rated 4.9/5 by 1102 happy customers
Stunning lashes at home in under 2 minutes...

With no need for messy glue or harsh chemicals...
How amazing will they look on you?
(five styles, one for every occasion)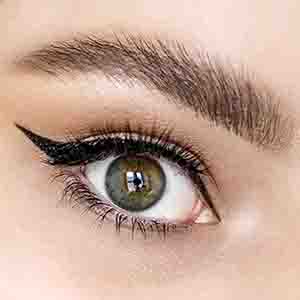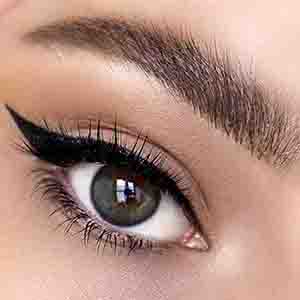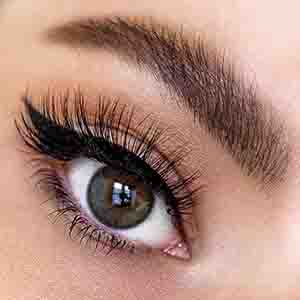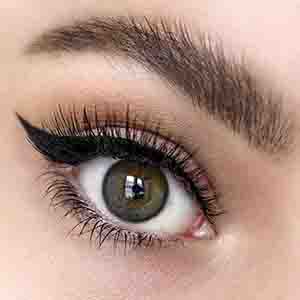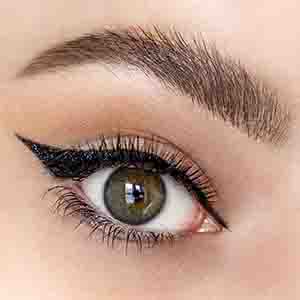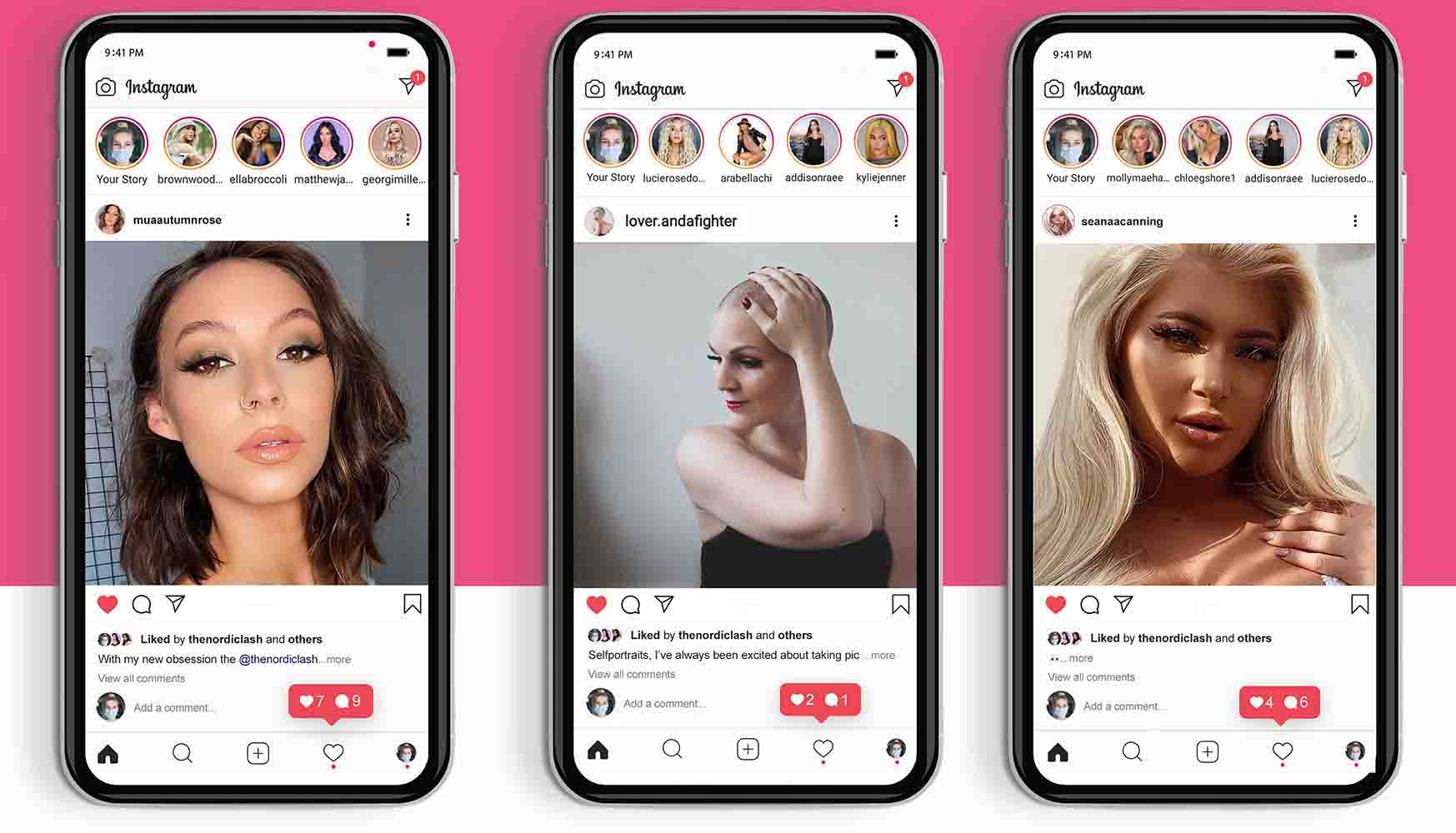 Frequently Asked Questions
Need more answers? Email me emma@thenordiclash.com or dm me on insta @thenordiclash
5 x magnetic lashes
(different styles)
1 x magnetic eyeliner
1 x eyelash applicator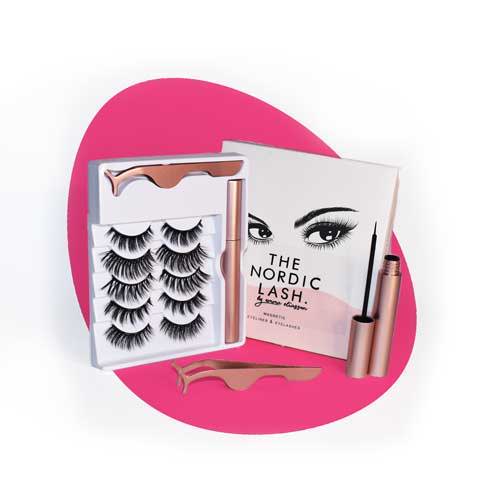 How long do they last? How many times can I reuse them?
They stay on all day! Whether you have a long day at work or a 12 hour rave in the club. Nordic Lashes have go your back.
Every pairs is reusable up to 35+ times, so you really are getting value for money. We advise when you take them off, give the lashes a quick clean, wipe off any magnetic liner that has stuck to them to make sure you get the most out of each pair (waterproof makeup remover is best)
Are they safe? What are the Ingredients?
Yes! They are safe and a great alternative to glue lashes. Think of the magnetic eyeliner as any regular eye liner with added ultra fine magnetic particles that allow the magnetic eyelashes to stick on instead of using glue.
The ingredients in the our Magnetic Eyeliner are: Acrylates Copolymer, Water, Alcohol Denat., Poly(vinyl alcohol), Butylene Glycol, Propylene Glycol, Xanthan gum, Ethylhexylglycerin, Fexenol, Phenoxyethanol, Iron Oxides
May Contain: Titanium Dioxide
Our lashes vegan and not tested on animals.
We use only ingredients that have been extensively tested and proven to be safe to use in cosmetics that are near the eye and are recommended by the FDA for use in eye cosmetics. Magnetic Eyeliner is also CE certified.
How toxic is regular lash glue?
Regular lash glue is one of the most harmful products in the beauty industry. It has been found to contain sodium dodecylbenzenesulfonate, ethyl cyanoacrylate and parabens. These are eye and skin irritants that in some cases have been shown to cause permanent damage to the eyes.
Not only can they cause serious damage, but they dry out the area which speeds up the ageing process. Your new Nordic Lashes will help you avoid any extra unnecessary wrinkles.
How do I use them? How easy is it?
Give the bottle a good shake.
Apply 2 layers of your new magnetic eye liner and wait till it is completely dry (around 2 minutes).
Your lashes should snap into place. Start with the corner closest to your nose first.
Easy as that, look amazing in minutes, super easy to apply compared with toxic glue lashes.
How do I take them off / remove the liner?
Gently pull off the lashes.
Make sure to remove any excess eyeliner with a non oily make up remover.
Store the lashes back in the box, ready to use again. Easy peasy (or
lätt som en plätt as we say in Sweden).
To remove the liner, just use any waterproof make up remover and a cotton pad.
My eyes are small, can I trim them?
Yup..
Loads of our customers with smaller eyes do this.
Just make sure you trim to fit right next to the magnet.
Do you sell the eyeliner seperatly ?
Yes we do!
When you order you will get a pop up asking if you would like to buy an extra bottle or two.
If you've already got our lashes and just want to buy some liner, then search for EXTRA BOTTLE in our sites search bar and it will take you to the right page xxx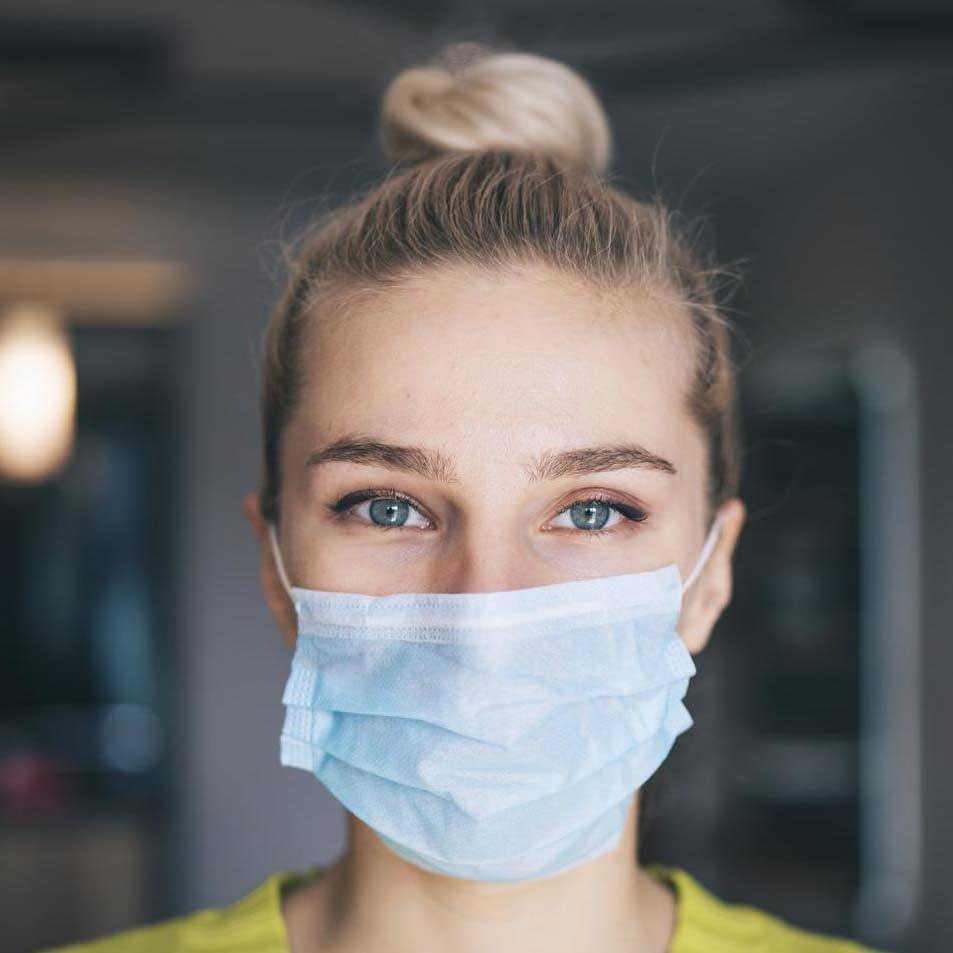 The Nordic Lash comes from humble beginnings, founded by Emma Eliasson in a small salon right in the heart of Stockholm.
"Like many women out there false eyelashes have been an absolute lifesaver, not all of us are blessed with amazing long lashes.

I wore false lashes using glue for years until I started to notice they were irritating my eyes and drying out my skin, I spoke to a few of my clients who love falsies and some of them had the same problem.

I looked around online and ordered some magnetic eyelashes, They were ok, but they cost $120 that's over 1000 Swedish Krona!
They also weren't very good .... The corners kept peeling and the liner wasn't waterproof... so I decided to take things into my own hands
I created my own high quality cost effective magnetic eyelashes for women who want to look their best all day / night without breaking the bank.

I started off selling my Nordic Lashes to clients at the salon and they were so popular word spread fast...
I started getting 100s of messages asking if we deliver, next thing you know 2 years have flown by and we're shipping worldwide with 1000s of happy customers
Thank you for taking the time to read my story, I can promise you that my nordic lashes will become your new favourite falsies...
Have a lovely day,
Emma x "
Orders are usually dispatched within 3 business days, once your order has been dispatched you will receive a TRACKING NUMBER so you can track your order every step of the way.
Due to the high demand and COVID-19 shipping times may take slightly longer than usual. Most orders ship within 7 - 10 days. Please see our shipping policy for more information

More happy customers ....
(swipe to see more reviews)